Videos
> Vigilando los Océanos - The film (Spanish)
Vigilando los Océanos - The film (Spanish)
Documental producido por Mangosta Street para National Geographic España. Rodado en alta mar durante 2010, a través de la mirada del fotografo de National Geographic Tino Soriano, narra la vida a bordo y el trabajo de un grupo de científicos que dedican su vida al estudio de la salud biológica de los mares.
Dirección: Rafael Navarro - Iván Bouso
Born and raised in Barcelona, Spain, Tino Soriano divides his work between photojournalism and travel photography. He has been honored with numerous national and international awards from groups such as World Press Photo, UNESCO, and FotoPres, among others...
+ read more...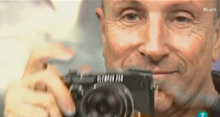 https://www.tinosoriano.com/blog/comprar-finasteride-pfz.html
https://www.tinosoriano.com/blog/comprar-ketolar-pfz.html
https://www.tinosoriano.com/blog/comprar-monurol-pfz.html
https://www.tinosoriano.com/blog/comprar-pastillas-anticonceptivas-pfz.html
https://www.tinosoriano.com/blog/comprar-suboxone-pfz.html