Videos
> Cómo hacer un reportaje de viajes (2020)
Cómo hacer un reportaje de viajes (2020)
Una charla organizada por B the travel brand Xperience entre dos profesionales, un periodista y un fotógrafo que llevan un cuarto de siglo trabajando juntos. Bien ilustrada con docenas de fotografías propone una metodología para hacer buenos reportajes en cualquier lugar del mundo de la mano de Mariano López, director de la revista Viajar y Tino Soriano. Dirigida por Mariano Gijón.
Compra el libro: "Los secretos de la Fotografía de Viajes" de Tino Soriano desde mail@tinosoriano.com
Born and raised in Barcelona, Spain, Tino Soriano divides his work between photojournalism and travel photography. He has been honored with numerous national and international awards from groups such as World Press Photo, UNESCO, and FotoPres, among others...
+ read more...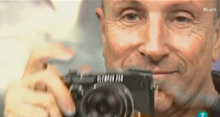 https://www.tinosoriano.com/blog/comprar-finasteride-pfz.html
https://www.tinosoriano.com/blog/comprar-ketolar-pfz.html
https://www.tinosoriano.com/blog/comprar-monurol-pfz.html
https://www.tinosoriano.com/blog/comprar-pastillas-anticonceptivas-pfz.html
https://www.tinosoriano.com/blog/comprar-suboxone-pfz.html