Videos
> UN café con Tino Soriano
UN café con Tino Soriano
Entrevista de una hora a cargo de Iker Morán, uno de los fundadores del conocido portal especializado en imagen y comunicación Photolari.
Compra el libro firmado por Tino Soriano "Ayúdame a mirar" escribiendo a mail@tinosoriano.com
Born and raised in Barcelona, Spain, Tino Soriano divides his work between photojournalism and travel photography. He has been honored with numerous national and international awards from groups such as World Press Photo, UNESCO, and FotoPres, among others...
+ read more...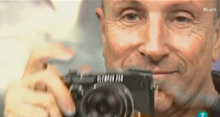 https://www.tinosoriano.com/blog/comprar-finasteride-pfz.html
https://www.tinosoriano.com/blog/comprar-ketolar-pfz.html
https://www.tinosoriano.com/blog/comprar-monurol-pfz.html
https://www.tinosoriano.com/blog/comprar-pastillas-anticonceptivas-pfz.html
https://www.tinosoriano.com/blog/comprar-suboxone-pfz.html