BanyoleSpeculum
Emitido en el canal de YouTube de "carretedigital.com" para hablar de "Banyolespeculum", el libro que he producido después de cuatro décadas fotografiando el lago de Banyoles. En esta charla os desvelo la mirada que hay detrás de algunas de las imágenes que aparecen en este espectacular ensayo fotográfico sobre paisaje. Gracias a Fran Palmero por la entrevista y a J.N. Santaeulàlia por los haikus que acompañan las imágenes.
SI TE INTERESA UN EJEMPLAR DEDICADO ENVÍA UN CORREO A:
Born and raised in Barcelona, Spain, Tino Soriano divides his work between photojournalism and travel photography. He has been honored with numerous national and international awards from groups such as World Press Photo, UNESCO, and FotoPres, among others...
+ read more...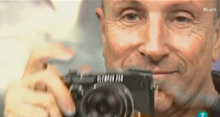 https://www.tinosoriano.com/blog/comprar-finasteride-pfz.html
https://www.tinosoriano.com/blog/comprar-ketolar-pfz.html
https://www.tinosoriano.com/blog/comprar-monurol-pfz.html
https://www.tinosoriano.com/blog/comprar-pastillas-anticonceptivas-pfz.html
https://www.tinosoriano.com/blog/comprar-suboxone-pfz.html