The United States in One Month (2004)
Slideshow
"El Magazine" an illustrated news magazine commissioned me to do a reportage depicting the daily life of the United States that voted twice for George Bush.
The article was published during election week and it showed a nation deeply divided politically. It was published under the title "The United States, a country in red and blue." This was a very funny story produced in 30 days.
Born and raised in Barcelona, Spain, Tino Soriano divides his work between photojournalism and travel photography. He has been honored with numerous national and international awards from groups such as World Press Photo, UNESCO, and FotoPres, among others...
+ read more...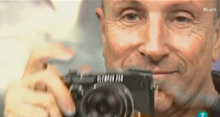 https://www.tinosoriano.com/blog/comprar-finasteride-pfz.html
https://www.tinosoriano.com/blog/comprar-ketolar-pfz.html
https://www.tinosoriano.com/blog/comprar-monurol-pfz.html
https://www.tinosoriano.com/blog/comprar-pastillas-anticonceptivas-pfz.html
https://www.tinosoriano.com/blog/comprar-suboxone-pfz.html